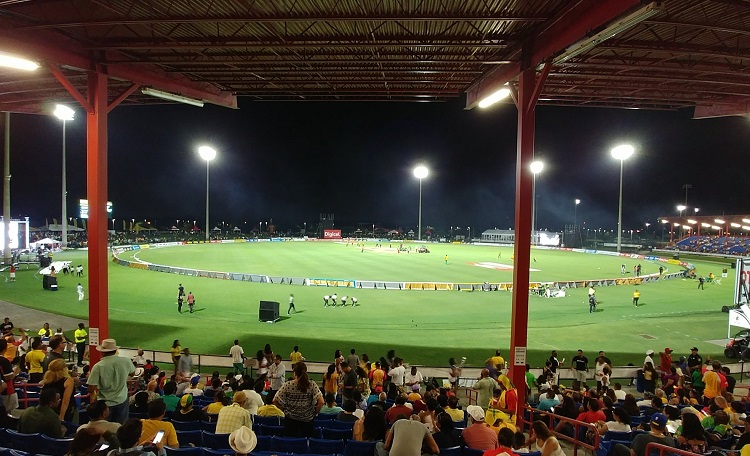 When I first discovered cricket in 2016, I had one singular use in mind for it. It needed to be something baseball-like that I could watch all winter until spring training started up again. Now that baseball is back on TV live from Florida and Arizona, cricket has again done its job and for the third straight year has made the winter seem a whole lot more tolerable.
Of course, one doesn't build an entire website about, plan travel around, and amass a library of books related to a four-months-a-year diversion. (And that's not even mentioning the silly amount of cricket-themed jerseys, hoodies, and whatnot in my closet.)
The seeds for today's official launch of CricAmerica were planted in 2017. I was down in Florida watching the Caribbean Premier League. I happened to be sitting behind a few guys of West Indian heritage who were in their late twenties or early thirties. They all had good jobs in the New York City area and were down to watch the matches. We started talking and they were surprised that I was cricket fan who didn't grow up with the sport.
And then this happened. (And it even made SportsCenter's countdown of the day's top plays complete with ESPN commentator snark.)
It was probably one of the greatest catches I'd ever seen live. I looked at them: "Why is it so surprising that I like cricket?"
One of them looked back and pointed at me. "There needs to be more guys like you in this country."
Make no mistake; cricket is already big in this country. The 30-plus team Massachusetts State Cricket League in my own backyard is flourishing. And there are dozens of leagues like this all around the country. And USA Cricket is doing a great job with the national teams and with growing the game at the youth level.
But no one is targeting people like me. I'm a huge sports fan who had no idea what cricket was and now I watch and enjoy it just as much -- if not more -- than basketball, football, etc. And there are potentially another 100 million folks like me in the country.
My goals for CricAmerica are humble:
I want the guys in my fantasy football and hockey leagues to want to start a fantasy cricket league.
I want to walk into a bar and have the bartender tell me about Sri Lanka beating South Africa.
I want to be able to buy a Rajasthan Royals shirt as easily as I can buy a Kansas City Royals shirt.
Will that happen? Who knows? But if it's going to happen, it has to start somewhere.
Welcome to CricAmerica.