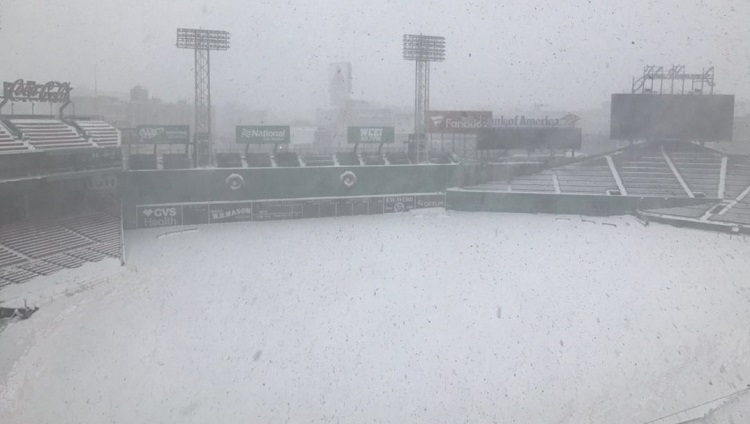 The baseball season is over.
And this wasn't just a regular baseball season. This was the best baseball season of all-time. The Red Sox not only won the World Series, but they did it by winning 108 regular season games along the way. They also did it by going through the New York Yankees, who with the off-season addition of Giancarlo Stanton looked like they were going to be invincible.
It was an amazingly fun team to watch and an amazingly likeable team to root for.
And now it's over.
Pretty soon we'll be turning back the clocks so that it gets dark at 4:30 in the afternoon and dealing with frozen temperatures and however many feet of snow that the universe decides to drop on us.
And did I mention that the greatest baseball season of all-time is now over?
When I first discovered cricket in the summer of 2016, I had one goal in mind: watch something baseball-like played on green grass in the sun all winter until spring training started. I looked at the schedule for all the upcoming T20 leagues and realized that between the leagues played in Australia, Bangladesh, and Pakistan, I could realize my goal. Heck, if I didn't have to leave my house and didn't look out the window, I could practically convince myself that it was summer all year-round!
I subscribed to the all-cricket Willow streaming app to maximize my bang-for-the-buck. (I had to YouTube the Bangladesh Premier League and pay some mystery streaming service to be able to watch the Pakistan Super League.)
And unlike most of my masterplans which unravel quickly due to my not completely thinking them out, this one actually worked. I was able to watch cricket all winter and despite the cold and nasty weather, I was able to convince myself that January and February that year were just summer months with some exceptionally cool temperatures.
More importantly, while I was busy being in complete denial about the weather and the calendar, I started watching the longer formats of the game. I saw how the format dictated the style of play. I saw how much intensity, drama, and tension there is in what I had previously decided was deathly boring five-day Test cricket. I appreciated the grind of the 50-overs game. It's one thing to lose a three-hour game; it's quite another thing to be on the losing end after eight hours of work.
When spring training rolled around, I figured it was going to be the off-season for cricket for me -- but it wasn't. There were players I wanted to follow, series that I wanted to watch, and a brand-new, centuries-old sport that I found fascinating. At night, I'd switch back-and-forth between Harold and Pedro on MLB Tonight and whatever live matches or highlights they were showing on the Willow cable channel. After the 2017 baseball season ended, cricket was on my screens just as much as football or basketball was.
As a cricket fan, there's something reassuring about the fact that there's no real off-season for the sport. Twelve months a year, someone somewhere is whipping a ball at a guy with a bat in a game that has international implications.
Yes, the greatest baseball season of all-time is behind us and it'll be months of dark, cold, and snow before the 2019 season gets a chance to be even greater. But England is playing in Sri Lanka, New Zealand is going up against Pakistan, and India is heading to Australia in a couple of weeks.
I should be ok.