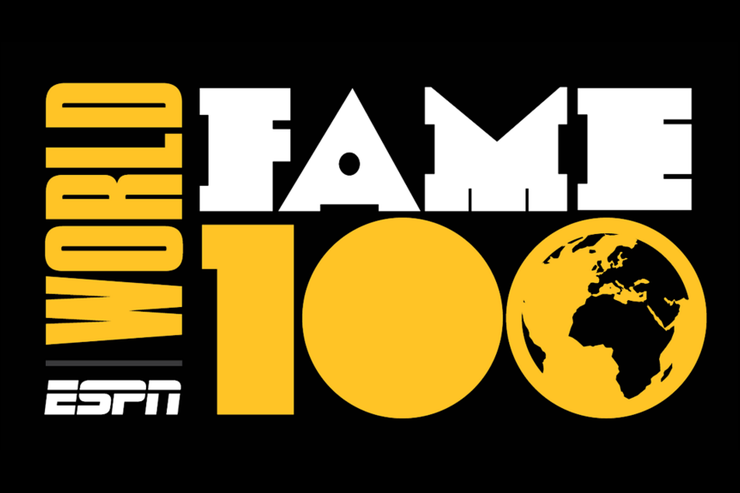 ESPN's annual World Fame 100 list -- a ranking of the 100 most famous athletes in the world -- was released this week and that officially starts the now-traditional, week-long barrage of "Who the heck is Virat Kohli?" calls to sports radio stations across the country.
This is cricket's biggest presence on the annual list. Eleven cricketers cracked the top 100, which is compiled by using an algorithm based on how often an athlete's name is searched on the web, the value of an athlete's endorsement deals, and the size of his or her social media following.
The World Fame list goes back to 2016, when only two cricketers made the cut -- Kohli at number eight and MS Dhoni at number 14. In 2017, those two were joined by two more Indian cricketers -- Yuvraj Singh and Suresh Raina. Last year, ten players made the list, including South African AB De Villiers, the first non-Indian to rank.
Maybe even more amazing than having 11 cricketers on the list this year -- a full 11% of the world's most famous athletes! -- is the fact that four of them are ranked in the top 22. The fourth ranked basketball player, Russell Westbrook, doesn't show up until number 45. Only soccer and tennis place four athletes on the list before cricket does.
ESPN went out of its way last year to defend the inclusion of numerous cricketers on its list: "Remember, this is a global ranking of fame. Nine of the 10 cricketers are from India, whose population exceeds 1.3 billion…This helps explain why a star like Virat Kohli can have 37 million Facebook followers, almost 10 million more people than watched Game 7 of the 2017 World Series."
That said, it's kind of interesting the media outlet doesn't really do much to capitalize on the popularity of those players. Yes, ESPN's CricInfo website is a great resource for all-things-cricket. On the broadcast side, though, the self-proclaimed "Worldwide Leader in Sports" doesn't really do much to try to take advantage of the fame and appeal of guys like Kohli, Dhoni, Rohit Sharma, Shikhar Dhawan, and others. A subscription to ESPN+ will let you watch New Zealand cricket and that's about it. I can't fathom that getting involved with the upstart Team USA would be all that expensive and risky for the media conglomerate to do -- especially when it sees the huge global upside that such a promotion might have.
In the meantime, you still get to enjoy a few more days of listening to "What's a Virat Kohli?" queries mixed in with rants about Bryce Harper's contract and the Odell Beckham, Jr. trade.