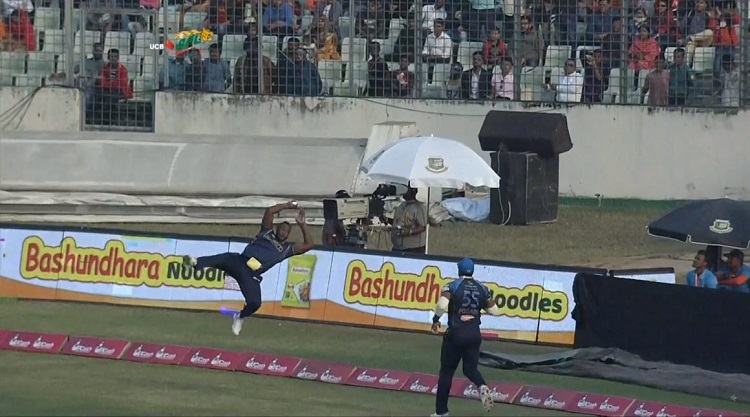 Here's a three-minute video that any cricket fan would find cool -- but for someone new to the sport, there's a ton of interesting stuff to be learned from it.
This is from a Bangladesh Premier League (BPL) match from a couple of days ago. The BPL is one of the franchise T20 tournaments talked about in the Cricket Formats section of The Rules. Because of the time difference between the US and Bangladesh, matches -- which are played as double-headers -- can be seen live on the east coast of the US between around 7:00 am and 1:00 pm.
The batsman is West Indian Chris Gayle from Jamaica -- probably the most powerful hitter in the history of T20 cricket. (And Gayle wasn't too shabby at Test cricket, either. His 333 runs versus Sri Lanka in 2010 is tied for the 12th highest innings total of all-time.) He's at the tail-end of his career, but he's still a major force in the sport both on and off the pitch.
The first ball bowled to him in the video appears to be an out. It looks like he used his leg to protect the wicket from the ball, which -- if you read the Basics section of The Rules -- you'd remember is one of the more common ways that a batsman can be dismissed.
After he's originally called out, the play goes to the "third umpire" for video review and analysis. Using a few different tech tools that determine if it was his bat or his leg that was hit first and whether the trajectory of the ball would have hit the wicket, it's decided that the call should be reversed. It's a pretty cool example of how technology is used in the game.
And that's not even the fun part!
On the very next ball, he hits what looks like should be his millionth T20 sixer. But incredible boundary footwork by Andre Russell and a relay toss to Kieren Pollard results in one of the greatest catches in BPL history. (This one was also sent to the third umpire for video review.) You can see similar acrobatic fielding plays in the Boundary Catches blog post.
The net result: Chris Gayle traveled all the way to Bangladesh to be robbed by two of his West Indies teammates.
And you could have seen it live with your morning coffee!