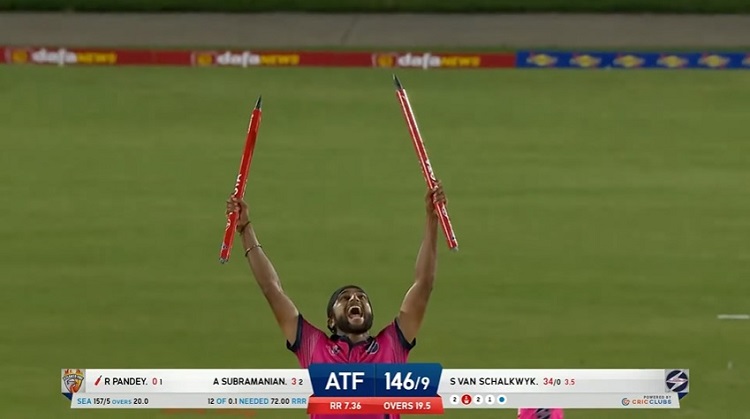 Major Moments in Minor League Cricket
The second full season of Minor League Cricket has wrapped up after 200-plus matches involving 26 teams from around the country. When the dust cleared, it was Harmeet Singh and the Seattle Thunderbolts who overcame some pretty daunting odds to take the title and raise the hardware. The season had more than its fair share of memorable moments, but there were a few that stood out from the rest. Some were incredibly clutch performances, some were just amazing statistical anomalies, some were peaks of greatness from a player who was dominant from Week One, and some were inspired and valiant team efforts. Having had the luxury of being able to watch a whole lot of Minor League Cricket over the past few months, here are my Top Ten most memorable moments from the 2022 season.
#10 -- The regular season got off to a bang for Rahkeem Cornwall. The opening weekend saw him putting up totals of 36 and 93…and he didn't really stop after that. The big Antiguan put up gargantuan numbers all season long. He led all of Minor League Cricket with 52 sixes (the next highest total was 37) and finished with a strike rate of 193. It's no surprise that Rahkeem was named MVP of the Southern Division. It's also no surprise that he's now smashing balls around for the Barbados Royals of the CPL.
#9 -- There wasn't much for the Ft. Lauderdale Lions to celebrate this season. Yes, their 4-9-1 record in 2022 was a slight improvement over 2021's 3-9-2, but they were still looking up at a whole lot of teams ahead of them in the points table. That said, for one glorious game in Morrisville, they were a kick to watch. Slugger Javelle Glenn threw the rest of the Lions on his back and hammered his way to an 83-run total and a game-winning six to beat the playoff-bound Atlanta Fire.
#8 -- Speaking of Javelle Glenn, his 100 off of 38 balls versus Orlando in July was the fastest 100 in Minor League Cricket history. At least it was until Obus Pienaar came to the crease against Ft. Lauderdale on July 31. The South African, playing in his first season with Morrisville after beginning his minor league career with the St. Louis Americans in 2021, shattered the record by one -- needing only 37 balls to reach the century mark.
 #7 -- Some of the biggest fireworks over the Forth of July weekend came from the bat of Shehan Jayasuriya. Back-to-back centuries -- 112* and 115* -- from the former Sri Lankan national team player proved that his impressive 2021 stats weren't a fluke. Jayasuriya went on to lead all of Minor League Cricket during the regular season in runs scored and his consistency during the regular season was a huge asset if you happened to have him on your fantasy league team.
Only 2 players have surpassed the 1K #MiLC runs milestone and they both happen to be on the Silicon Valley Strikers 💙⚡ Congratulations to Shehan Jayasuriya and Unmukt Chand 👏👏👏

🏏 S. Jayasuriya: 1,158 runs in 30 innings
🏏 U. Chand: 1,068 in 29 innings#MinorLeagueCricket pic.twitter.com/zfoTMwSjdc

— Minor League Cricket (@MiLCricket) August 10, 2022
#6 -- There was no bowler more dominant in Minor League Cricket this year than Phani Simhadri. He led all bowlers with 33 wickets in the regular season and then added another 13 in the postseason. And none of those postseason hauls were more important that the five he took against the Dallas Mustangs in the first game of their two conference semifinals contests. (Due to heavy rain and a rule that seems like someone made up because they were bored, Dallas would only have to win one match of their two-game set to advance, while Seattle would have to win both matches to move on to Morrisville.) Phani not only grabbed those five wickets, he did it while only allowing nine runs in 3.1 overs.
Phani Simhadri gets a 5 wicket haul! The leading wicket taker in MiLC 2022 has been on 🔥 this season and he continues his heroics into the playoffs! pic.twitter.com/nkrDJjB5P7

— Minor League Cricket (@MiLCricket) August 21, 2022
#5 -- Which is more impressive to you: taking six wickets in four overs in a T20 or allowing only 10 runs in four overs in a T20? Guess what? Nosh Kenjige doesn't care what you think! He did them both in the same game! The Dallas Mustang and USA national team spinner completely stymied the Calvin Savage-led Chicago Tigers in late July in the most dominant bowling performance of the 2022 Minor League Cricket season.
#4 -- There were 13 100s hit during the 2022 Minor League Cricket season. 115 runs? That was done four times. 130? That was done just once. On July 10th, Chandrapaul Hemraj torched the Empire State Titans for a buck-thirty in a New Jersey Somerset Cavaliers victory. A cooler fact is that he did it in just 54 balls. An even cooler fact is that he followed it up with 101* in his next match!
#3 -- It was fun enough that there was prime time Friday night Minor League Cricket to watch. Honestly, it would have been fine just to be able to kick back with a beer and watch some domestic T20 with the windows open and a million bugs chirping on a warm summer night. But then Calvin Savage came up and just plain-out beat the daylights out of the ball. His 34-run 6-6-4-6-6-6 over against the Chicago Blasters was like watching someone play a video game in God-Mode. Savage's work all year with the bat -- and the ball -- was a major reason the Chicago Tigers were a solid playoff team. But that 19th over? That was just nuts.
Calvin Savage ABSOLUTELY SMASHED the 19th over 🤯🤯🤯

6-6-4-6-6-6

He's one run away from a half century. The Tigers are 180/5 with 6 balls to come!!! pic.twitter.com/Gm010bxe3U

— Minor League Cricket (@MiLCricket) July 9, 2022
#2 -- Hard not to feel bad for the NJ Stallions. They fought all season to make it back to the playoffs only to run up against a buzzsaw in the Atlanta Fire in the semifinals. The Fire put up 14 in the opening over -- and they were just getting started. For a solid hour, USA national team member and Atlanta captain, Aaron Jones, 76*, was the most destructive force in all of North Carolina. His 100-plus run partnership with Jahmar Hamilton, 54 from 29 balls, helped the Fire drop 210 runs on the Stallions -- an easily defendable total that would send Atlanta to its first Minor League Cricket title match.
#1 -- There's regular "clutch" and then there's Ben-Stokes-at-Headingley "clutch." And for an entire weekend in mid-August, the Seattle Thunderbolts were the latter. Going into the final two days of the regular season, they needed to do more than just sweep the defending Western Division champs, the Golden State Grizzlies; they needed to beat them so profoundly and decisively that they would overcome a massive deficit in net run rate and slip past the East Bay Blazers into the second playoff slot in the west. In the first game, they bowled out the Grizzles for 122 -- a total they would eclipse in less than 12 overs. And in the second game, stingy bowling limited Golden State to 110, which Seattle bats would surpass in just 7.1 overs. As a result, the Thunderbolts slid into the playoffs by a whisper-thin .06 margin in net run rate. Two weeks later, they were the kings of the 2022 Minor League Cricket season.
What an excellent batting performance by Harmeet Singh and his teammates to lead the Thunderbolts to scoring 111 in just 7 overs! 🙌🏽🙌🏽🙌🏽 pic.twitter.com/T1cfEEb8GU

— Minor League Cricket (@MiLCricket) August 14, 2022
Of course, with so many games being played, this really only scratches the surface of all that went on during the Minor League Cricket season. Next year, the domestic scene explodes with addition of Major League Cricket. With the two leagues looking at playing a combined 300 matches, there should be even more memorable and incredible moments to enjoy.
© CricAmerica.com/Steve Steinberg 2022