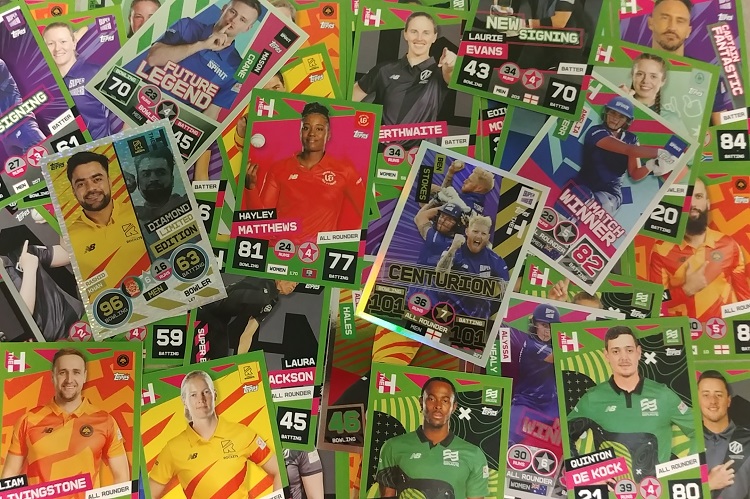 Got Him. Got Him. Need Him. Part IV
The Hundred is back for another year and that means two things: people complaining about an oddball new format slowly squeezing the life out of County Cricket AND the release of a new Cricket Attax series from Topps. This year's set is bigger than last year's debut set, but does that make it any better?
Topps -- the same company that's been making baseball cards in the States since 1951 -- has over a decade's worth of experience making cricket cards. The company released IPL cards in India from 2011 through 2017 and Topps' Indian audience also saw World Cup series in both 2014 and 2015.
Last year's inaugural Hundred set was visually unique. The majority of the cards were action pics that were sort of a funky fusion between photo and cartoon. It was a distinctive look that made sense for what was a distinctive league. This year's set falls back heavily on the generic from-the-waist-up shots that made the 2016-17 IPL set so uninspired and ho-hum. And if that wasn't drab enough, a ridiculous percentage of the cards have players simply pointing to their team's logo on their chest. Faf points. Moeen points. Heather Knight points. Jonny Bairstow points in two of his cards.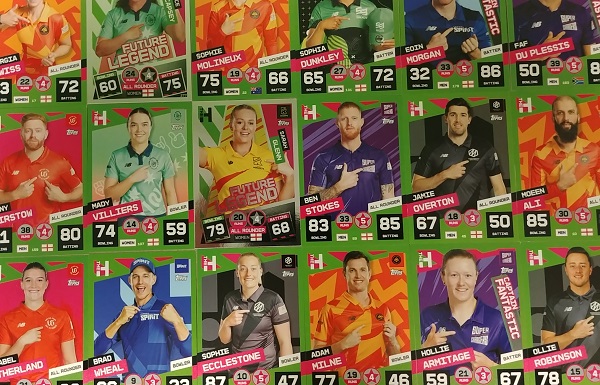 Last year's set was 226 cards and the distribution in packs was pretty good. I ordered a box from Topps UK -- 24 packs of 12 cards each -- and I came close to completing an entire set without getting a large number of duplicates. (And through the Topps site, I was able to easily purchase the few cards I needed to complete the set.) Putting together this year's base set is going to be a bit more daunting. At 328 cards, you'll definitely need a couple of boxes to hope to come close to nailing the whole thing.
In addition to having more "rare" and "special" cards to track down, packs only contain ten cards each. That said, distribution in the box I ripped through was good. I had very few duplicates among the 240 cards I opened. But I still found myself miles away from a completed set. Some of the special cards break the mold of the redundant mug-shot-looking base cards, but when seven of the ten cards in every pack look almost identical, the overall pack-opening experience gets old fast. Like last year, there are also much scarcer Limited Edition cards to find, but these cards aren't considered part of the base set.
Coolest card of the set? Easy. USA Cricket's Tara Norris. It's the first time I've seen an American flag on a Topps cricket card. And hopefully it won't be the last!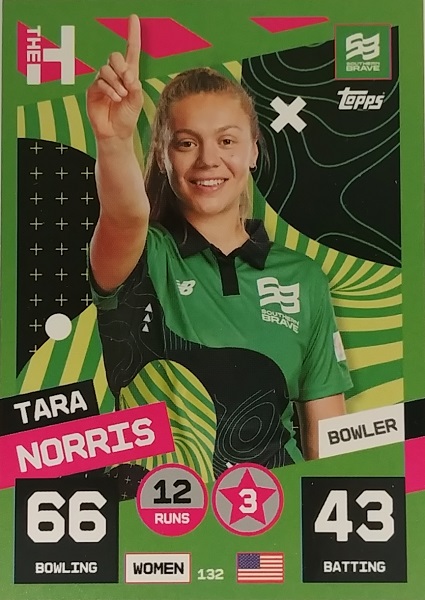 I was really looking forward to this year's set of Hundred cards from Topps. I'm into collecting cards. I'm into cricket. And I'm into getting stuff in the mail. Unfortunately, the unimaginative and repetitive look of the set leaves a lot to be desired. Hopefully, the action on the field this year will be a little bit more inspired.
© CricAmerica.com/Steve Steinberg 2022